When it comes down to it, working in real estate requires more than the ability to find and show off houses. It requires that the agent builds an image of credibility and a relationship of trust between herself and the client. In order to do these things, the real estate agent needs to (a) have a strong network of contacts and referrals and (b) have an engaging personality that makes the client implicitly trust and want to work with her. In the past, real estate agents had to build their credibility and relationships solely in person, over the phone, through the mail. Now, however, social media has tremendously affected the ways in which agents may interact with and market to their target client base.

For real estate agents, being on social media drastically opens up their sphere of influence and referral base, allowing for agents to connect with friends of friends of friends of clients and followers. Often, realtors employ various social media platforms, most commonly Facebook, and most interestingly (to me) Pinterest.

With Facebook realtors can furnish their personal brand/marketing personality by setting up a page where they can post about their neighborhoods of focus, about their home listings, about interesting tidbits like home décor, and about contests they can throw to further engage their audience, all while keeping viewers constantly updated on the trajectory of a neighborhood or home sale. Facebook should be used mainly as a platform of engagement that lends personality to neighborhoods, homes, and—just as importantly—the agent himself. Agents can engage with followers/fans/friends on social media through asking questions, like what would you put in your dream kitchen?, and staging contests with a gift for the winners relating to the current neighborhood of focus.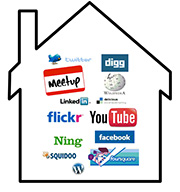 In order to really engage with potential clients in an entertaining way, real estate agents also sometimes choose to use Pinterest to both bolster personality and market homes. Agents can set up boards that range from home décor tips, to personal interests, to listed homes, to the neighborhood's character. Clients may visit the realtor's Pinterest because photo pins are fun and engaging to view. It's easy also to set up a Pinterest tab on Facebook, so visitors can easily transition between sites.

Agents also may make use of Twitter, Foursquare, YouTube, and WordPress, among other social media platforms.

Social media is important to real estate agents not just because it's another platform to market homes. Rather, the bulk of social media's usefulness comes from its ability to connect with new audiences while creating a brand—for neighborhoods and for the real estate agents themselves—helping to engage potential clients and build a trustworthy image of the realtor.