The housing market is recovering! Finally, trends seem to be reversing, if you take a look at the progress of a few key indicators.

First, new and existing home sales are on the rise, with new home sales hitting their highest levels in June 2013 since the spring of 2008, and single-family home sales reaching a five-year year high that same month. The summer also saw a rise in the sale of existing homes, as well as in construction starts, which is another indicator pointing to recovery. People are prone to build when it looks like the economy and housing market are improving.

This increase in home starts and sales has also led to quicker turnover of homes and a consequent rise in home prices, both other strong indicators of housing market recovery. Rising home prices help recovery as they lift homeowners out from underwater, encouraging them to stick with their mortgages and discouraging default. Statistics do show that fewer homeowners are currently underwater, and they also show that while distressed sales (like foreclosures and short sales) were almost 50% of the market during the height of the housing crisis, they've now lowered dramatically to less than 15%. There being less bank-owned and abandoned homes helps maintain property values in neighborhoods and certainly signifies that we're on the path to recovery.

Additionally, the median age of the U.S. inventory of homes for sale is the lowest it's been since the beginning of the crisis. The tightening of the supply of homes listed for sale, coupled with faster rates of turnover in the selling process are key indicators to show that properties are selling well, or at least better than they've been for the past several years.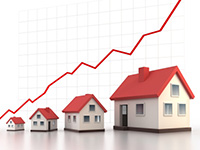 The online residential real estate site Trulia actually claims that the housing market is now 64% back to normal, as compared to about half that one year ago. The site comes to this conclusion by measuring changes in home prices, supply of houses listed for sale, and rates of turnover on houses listed as for sale.

In all, although the housing market still faces some significant challenges, there's hope on the horizon, given these indications that things are finally getting moving. I look forward to seeing how much more the market's advanced by this time next year.